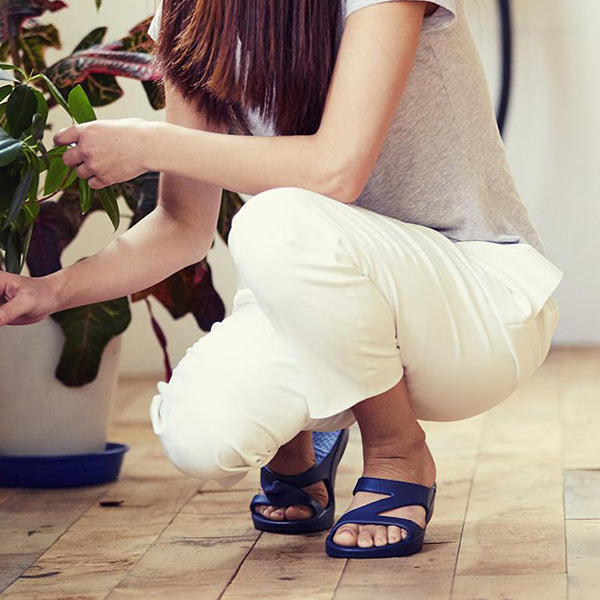 Z Strap Arch Support Sandals - Deep Ocean
This beautifully designed sandal has an anatomically correct footbed and is offered in three colours. With a slight wedge, it can be dressed up or dressed down. It is contoured to support the arches of your feet and has a deep heel cup with great medial arch and metatarsal support. This is an excellent sandal for people who love arch support and cushioning, yet want something a little dressier than a flip flop. It floats, is non-porous, anti- bacterial, and machine washable!
Award-winning comfort
Pillow-Soft
Supportive
Lightweight & Waterproof

Doctor Recommended
TRUSTED BY EXPERTS
See what some of our podiatrists have to say about Telic.
The thongs and sandals are particularly well received by our patients who generally wear orthotics in all their footwear, but would like something cooler for the summer months or to put on when they get home from work or sport. Those who don't wear orthotics also benefit from having some support and cushioning that they wouldn't receive with traditional thongs.
Telic footwear has been extremely popular with our patients
Our patients love wearing Telics as part of their treatment plan and certainly it helps with various conditions such as Plantar Fasciitis - Comfy, supportive, adaptive arch support, makes for a pain free day.
HEAT ACTIVATED
Experience the perfect fit with Telic's temperature-reactive footwear, softening to match your unique body heat and contouring to your individual shape.
ARCH SUPPORT
Novalon technology's custom deep heel cup supports your foot's arches, minimizing pressure and maintaining your foot's natural shape during walking or running, even under heavy force.
NOVALON® MATERIAL
These durable recovery thongs offer superior rebound, extended shock-absorption, and a lifespan twice that of regular shoes. Their cushioning, resilience, and elasticity provide lasting comfort, reducing strain on the body and relieving post-workout fatigue.
APEX CUSHIONING
Experience weightless comfort with Telic footwear that supports, absorbs shock, and feels like you're floating above the ground. Its textured footbed gently massages your feet and reduces moisture, while increasing ventilation that allows air to flow beneath your feet.